It just keeps raining. The atmosphere remains tropical, a moist thing that hangs on your flesh when you're out in it. Temperatures are steadily going up, although the constant storms help cool it off in localized events.
Like other years when seasons rolled by in unexpected forms, this spring brought with it a massive infestation of fall webworms (Hyphantria cunea). xocobra and LD were mentioning last evening the appearance of caterpillar rainfall in the back yard, for the trees are so laden with the hungry beasts that they fall to the ground constantly, and in large quantities. They're everywhere. And just today Rick pointed out in his back yard an entire tree canopied with nests built from their webbing. Worst of all, these insects begin massing in spring but do not peak until autumn. But they're already so bad…
Despite how odd it's been and what it's encouraged to plague proportions, Mother Nature appears unready to relent with the peculiar, to wit, this from NOAA:
THERE IS A GOOD CHANCE OF THUNDERSTORMS AND HEAVY RAINFALL MONDAY THROUGH WEDNESDAY…ESPECIALLY ALONG THE INTERSTATE 35 CORRIDOR. THE HEAVY RAINFALL COULD RESULT IN FLASH FLOODING ANYWHERE IN NORTH TEXAS EACH DAY.

THUNDERSTORMS CHANCES LINGER ACROSS ALL OF NORTH TEXAS THURSDAY AND FRIDAY WITH A POTENTIAL FOR HEAVY RAINFALL AND FLASH FLOODING.
It's summer in North Texas! What the hell? I live along the I-35 corridor. With more than thirty years experience watching the weather here, I find all of this to be anything but usual.
Temperatures should already be unbearable and still rising, humidity levels should already have dropped enough to make the air breathable yet still violently uncomfortable, and the rain should already be an empty promise. Look at the forecast and current conditions though: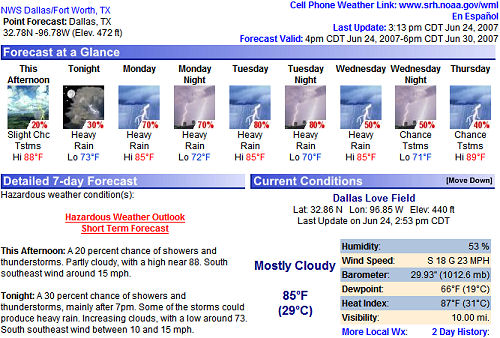 We already set records for spring as a whole and May as a whole. Last winter could never be referred to as a casual experience for us. Now we seem poised to make a run for the rainfall records for June. As we've already hit being the wettest summer on record for only the past few days, I suspect even that lofty goal is now within our grasp.
Strange. Indeed, not unheard of but certainly a vast distance from normal.