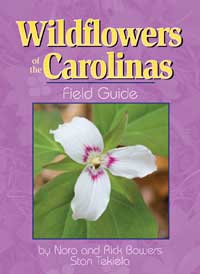 Wildflowers of the Carolinas by Adventure Publications is a field guide overflowing with full-page photographs and detailed descriptions of beautiful flowers native to the Carolinas.
Both famed naturalists, writers and photographers, Rick and Nora Bowers, together with Stan Tekiela, provide a multitude of images and in-depth information about the hundreds of plants featured in this marvelous book.
And along with such impressive names, one other name appears in the copyright section. Mine.
A picture I took happens to be included. The publishers discovered it here after I posted it in spring 2007. Fully licensed and acknowledged, I'm honored they chose to include my work amongst the plethora of fantastic images that can be found between the covers of this handy and well-organized reference guide.
"But you didn't take that photo in the Carolinas!" That was Mom's reaction, one immediately followed by her reminding me that I had digitally captured that flower at the family farm in East Texas. Thankfully her memory isn't as bad as mine since I was certain I had taken that shot while visiting the Carolinas.
Um, not really.
I'll let you in on a little secret: Plants can be native to more than one state at a time, let alone more than one region of the country. Where the photo was taken is of no significance since it's a picture of a flower also native to the Carolinas.
I'll let you in on another little secret: I think any regional or local nature book with photographs is likely to contain representations not necessarily captured in the region or locale covered by the book.
Earth-shattering insight aside, don't let a little truth stand in the way of heading over to Adventure Publications and buying a copy (or you can head to your favorite brick-and-mortar bookstore or other on-line vendor if the mood strikes you).